At Handouts we work hard to get you recognized and remembered and a great way to do that is to think outside the box when it comes to your Direct Mail Campaign after all, if no one is reading your material no one is responding to it! Here are a few tips to help you get your marketing materials read:
Use color!
People are bombarded by advertisements from the moment their alarm goes off in the morning, you need to make sure your materials cut through some of that clutter and get you noticed! You may have beautiful marketing materials, but if you mail them in a plain old white envelope with black print all your clients and perspective clients will see is junk mail. Besides if you are paying to print the envelope anyway why not use it to its full potential. The price difference to print the back of the envelope is very minimal especially when you take into consideration that it is another opportunity to make an impression on your clients. Add customer testimonials, your companies tagline, an interesting statistic about your company…you are only limited by your imagination.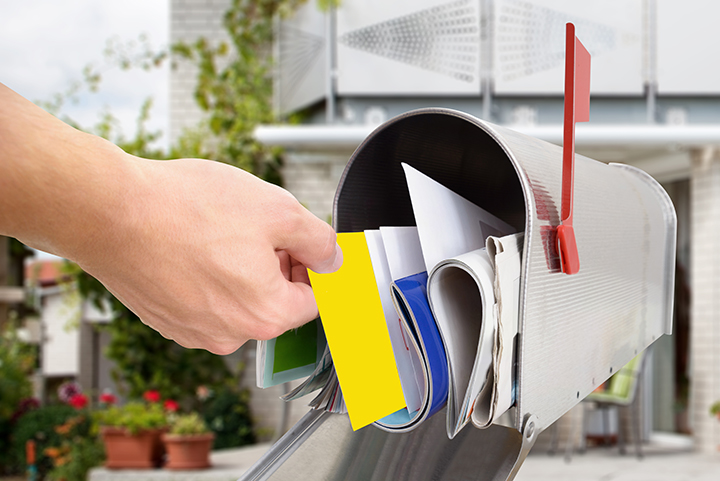 Add a promotional product to your mailings. People will almost always open a three dimensional envelope just to see what's inside. According to the Direct Marketing Association (DMA), the response rate for dimensional mailing outperforms all other types of direct marketing.
Letter size mailer to a house list 4.28%
Pay to Click Advertising 5.27%
Email Marketing 7.26%
Dimensional Mailing 8.51% to 30%
With almost 1 million products to choose form Handouts can help you find the perfect fit for your budget.
Choose the right type of printed piece. Depending on your mailing needs a postcard may be a better option for you than something in an envelope. Full color postcards are very inexpensive and the advantage of mailing a postcard is that everyone that comes in contact with it sees your logo and your message, there is no envelope barrier for them to get through. A full color oversize postcard is especially good at grabbing people's attention.
Consider sending standard (bulk rate) or every door direct to save money. You can supply the mailing list or you can tell us who you want to reach and we can supply a mailing list to meet your demographics. Whatever your mailing needs at Handouts…We Do That!