When you have the opportunity to meet a prospective client…will your business stand out from your competition?
Here are 5 tips to help you make your business stand out…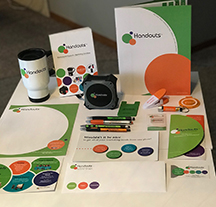 1.

Send a consistent message

– Make sure everything you print or imprint works together to build you image

• Professionally designed marketing materials
• Be consistent in your design and use of your company colors
• Quality printing & paper selection
2.

Be visible with promotional items

• Keep in front of your clients with promotional items (remember to keep consistent with your company colors)
• Shirts – helps you look professional and makes you a walking billboard
• Vehicle lettering or magnetic signs – great exposure!

3. Have a strong online presence
• Professional Up-to-Date Website
• Blog
• Have a strong social media presence
• Send email blasts to keep in touch
4. Create a powerful offer – something to make people take notice

• Make sure you have an expiration date to create a sense of urgency
• Use a Promocode so you can track what is working
The last tip is a simple step that sometimes gets overlooked.
5. Focus on customer service

• Listen to your customer's needs
• Pay attention to detail
• Be a resource – if you can't help them, lead them to someone who can
• Be quick to respond
• Provide Extraordinary Service
If you need help, call Handouts…..we do that!